Hello Family it's been such a long time since I've done a blog. I'm back and at it again. A lot has happened since the last time I've blogged to you all and I have a lot to share. The first thing being this review. I'm excited to bring this to you all because I talk about this ALL THE TIME! I don't know how many times I've mentioned on fb, twitter, or instagram about ladies wearing the proper under garments. Well fortunately I have something you ladies will love and I had the opportunity to try out.
A week ago or longer I was sent 2 shapewears from Maidenform through Klout and this came at a WONDERFUL time because I was just getting ready to do a blog about shapewears and girdles because I was requested to do so. I just want to stress this first shapewears or girdles are not only for thick and large women small petite women need to wear them also. One reason is no one is exempt from cellulite no matter how small you are. 2nd no woman is exempt from their panty lines showing. For one shapewears smooths everything out, every crease, crater, dent , roll, fat it will smooth it out. Especially if your're wearing a spandex or cotten dress it's very important because you can see imperfections and depending on what under garments you're wearing that can make a difference whether good or bad. But I rather be sure that I'm on point then have to question if something is going to roll in my butt or if you're going to see imperfections through my dress. Especially in church no woman should be walking around freed up. There are married men there and no one should have to be subject to looking at that. I'm just being real. No matter how big or small we are we all can suffer from this unless we gear ourselves up.
So these are the two shapewears I was sent. I'm going to review this and tell you the difference between this and many shapewears and girdles I've tried because I've tried many. Normally when I'm going out I have on some type of girdle or shapewear unless I'm at home because I carry heavy on the backside, hips and thighs. So I definitely need some CONTROL!
FLEXEES® COMFORT DEVOTION EVERYDAY CONTROL BOYSHORT
The Comfort Devotion Everyday control boy short is personally my favorite. I am a boy short female for a couple of reasons. One main reason is because it's comfortable in general and because it cover my buttocks. I have too much butt and hips to be wearing thongs, g-strings, bikinis and anything smaller than my butt which is why this particular shapewear is my favorite. It stays true to it's name it's comfortable and it is my daily devotion. I've been wearing this more so than the other one I was sent. It doesn't feel like the typical shapewears I've tried. I've tried from body magics, spanx and other girdles and shapewears. Many times with the girdles I've tried in the past and still have til this day they are uncomfortable. You feel compressed and also I would lose my shape and curves with them because they compress everything together instead of shaping, forming to my curves and camouflaging. What I love about this they feel like my regular boy shorts undergarments but it's a shapewear. An EVERYDAY shapewear which is what I love about it! I sleep with it on hand wash it dry it and put them back on.
This runs at $30 they come in both nude and black in sizes Small -2XL
In this photo I am wearing the comfort devotion boyshorts. What I ULTIMATELY LOVE about this is if you can look at the difference of my before and after my curves are a lot more defined, and they camouflage the heck out of my cellulite. I named my cellulite dents, potholes and craters because I have them all. This shapewear tamed my curves and those holes. And you see no seams at all! Gotta love it! Oh and THEY ARE COMFORTABLE! I already mentioned that but just wanted to stress it. Us curvy women need the support including the petite women. Also check out the stomach area! I have a very small torso so this shapewear can reach the bottom of my bra which is great because it shapes my stomach nicely.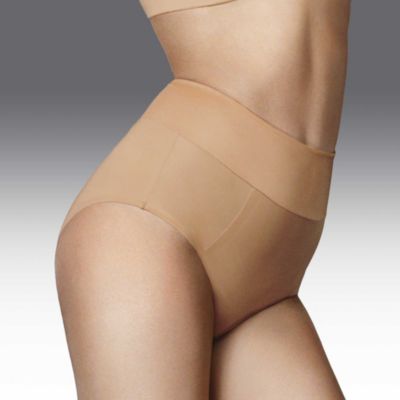 FLEXEES® COMFORT DEVOTION EVERYDAY CONTROL AT WAIST BRIEF
Next are the briefs. Briefs are also great for curvy or full figured women and petite. I personally as I said prefer the boyshorts out of preference but this is a great everyday shapewear also. It feels exactly the same as the boy shorts accept the cut is different which could effect also what you wear being that it is a shapewear. I wear this with darker shades because it camouflages better underneathe and I wear these with pants. It offers support, shapes, redefine, it gets rid of that muffin top and I did mention before that I had a forming muffin top top. So this definitely takes care of that. It's also has sleek and smooth outer fabrics the same as the boyshorts, and what makes this different from many other shapewears and girdles is it has a soft mesh inside that shapes and smoothes. This is one of the main reason it hugs your curves the right way and it smooths. It has a pillowcase gusset for comfort, it's seamless under clothing and it has flat seams which is very important to me. The same comfort I want with my bras I want with my shapewears. The fabric content is Body: 79% Nylon, 21% Elastane Waist: 64% Nylon, 36% Elastane Gusset Lining: 100% Cotton. They come in Nude & Black. And this particular one run at $28 in sizes Small- 2XL
Overall I am impressed with these and love them and would suggest them to every woman I encounter. I would like to thank Klout for giving me the opportunity to test these out. I would also like to thank Maidenfor for offering these for testing!
For more information and if you would like to purchase these check out the website
Maidenform
Check out
+Klout
If you tried this tweet at hashtag #MFShapesMe #Kloutperks